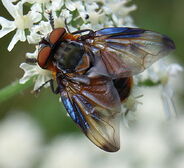 Phasia hemiptera
is a
tachnid
fly
that is found throughout Europe. It is strongly sexually dimorphic, with the males being more colorful. Like most tachnids,
P. hemiptera
is
parasitic
, laying its
eggs
on other
insects
, where the
larvae
will feed off the host. The main hosts of this insect are
Pentatoma rufipes
and
Palomena prasina
.
Phasia hemipteras' name probably means that most of their phases are on host Hemiptera.
It is common for this species to be mistaken for a hoverfly.
Ad blocker interference detected!
Wikia is a free-to-use site that makes money from advertising. We have a modified experience for viewers using ad blockers

Wikia is not accessible if you've made further modifications. Remove the custom ad blocker rule(s) and the page will load as expected.