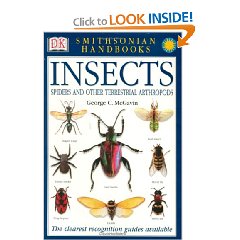 Smithsonian Handbooks: Insects, Spiders, and Other Terrestrial Arthropods
is a handbook about insects, myriapods, and arachnids written by
George C. McGavin
. It provides information about several insects, their
order
their family, how many species it has, its size, and feeding habits.
Back of the book
Edit
DK's Smithsonian Handbook of Insects, Spiders, and other Terrestrial Arthropods combines crystal-clear photographs and illustrations with precise annotation to make identification sure and simple. This authoritative, systemstic, and clear photographic approach marks a new generation of identification guides.
Ad blocker interference detected!
Wikia is a free-to-use site that makes money from advertising. We have a modified experience for viewers using ad blockers

Wikia is not accessible if you've made further modifications. Remove the custom ad blocker rule(s) and the page will load as expected.